REJUVENATE THIS NEW YEAR
The best way to refresh and rejuvenate in 2021 will be in the fresh air. Simply being outside is the new going out (and staying in). At Beersheba, we definitely plan to embrace this advice, and spend as much time in the great outdoors as we can.
Bringing the Inside Out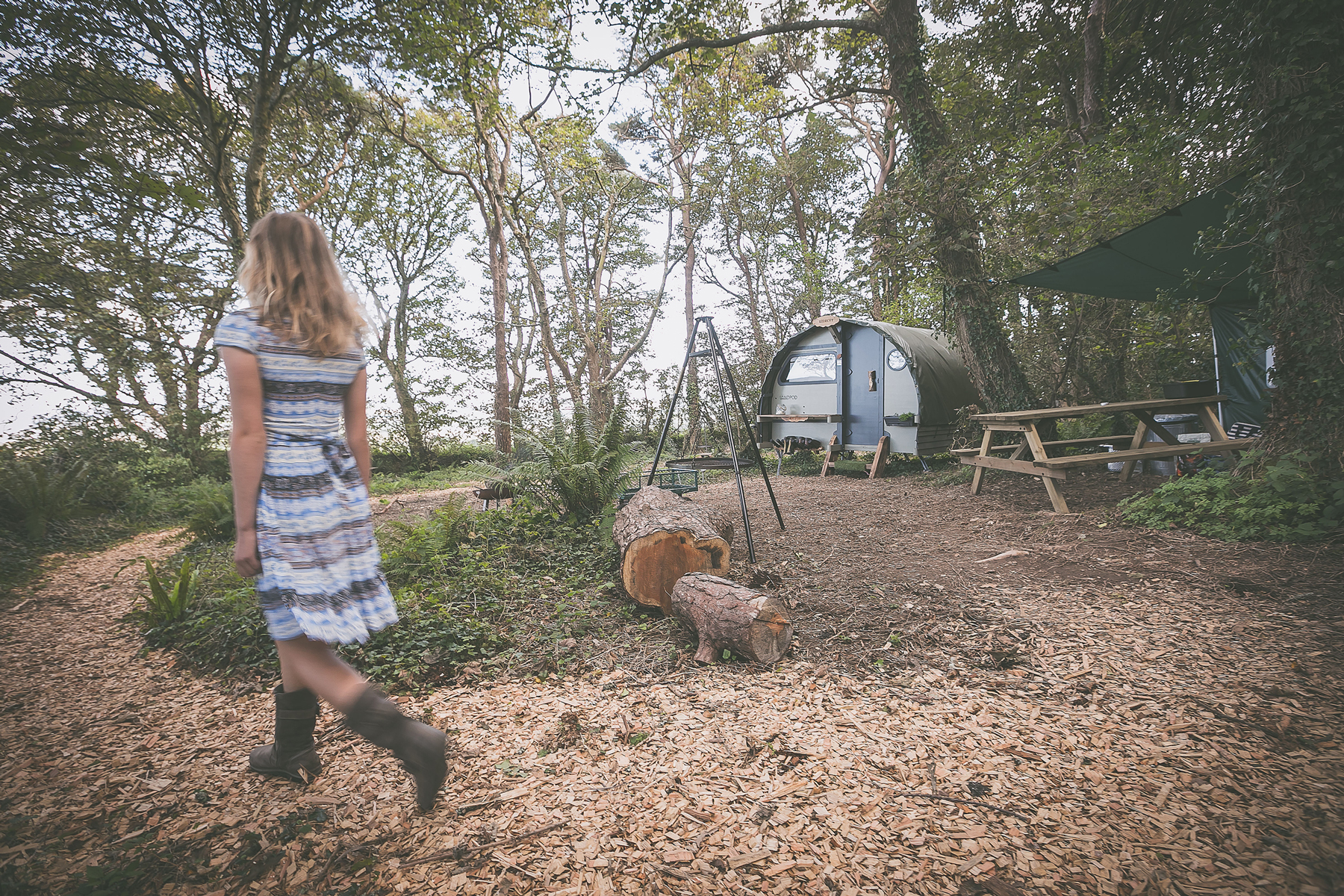 When we first set up our glamping Landpods in Wildflower Woods, we wanted our guests to be able to do everything they do indoors, outdoors. From showering to family feasts, you can have the full holiday experience under the leafy canopy.
You can easily swap your entire indoor existence for a life outdoors. While you're in West Cornwall, switch indoor-based hobbies for new outdoor ones. Try cycling, running, hiking or horse riding, and we can recommend the best places and providers for all of these.
It may have become one of the great cliches of 2020; however, nature is healing. Breathe in the ozoney hit from the ocean combined with the ever-changing scents of the woods, and you'll know exactly what we mean. Here's the Beersheba guide to a rejuvenating 2021 in the Cornish open air.
Forest Bathing
The Japanese theory of shinrin yoku, forest bathing, reached us Brits a few years ago. You simply spend time in the woods, breathing in the woody, musty and zesty-green scents while quietly observing and listening out for the wildlife around you. Of course, we've always known that trees have a calming quality, but it's nice to put a name to it.
Cornwall isn't famous for its forests. We may not have as many places to forest bathe as sea swim; however, there are lots of accessible woods across the county. As a family, we regularly go to Tehidy Woods near Pool, which has a choice of easy-to-navigate trails and Cornwall's cheekiest squirrels. Closer to home, Steeple Woods above St Ives gives you stunning views across the bay, or take the short drive to Gulval near Penzance for locals' favourite walking spot, Trevaylor Woods.
If a walk in the wood soothes the spirit, how about a whole holiday under the canopy? Our eco glamping pods place you right in the heart of the woodlands. Every rustle, every hoot, every snapping twig is an experience to be immersed in and enjoyed.
Wild(ish) Food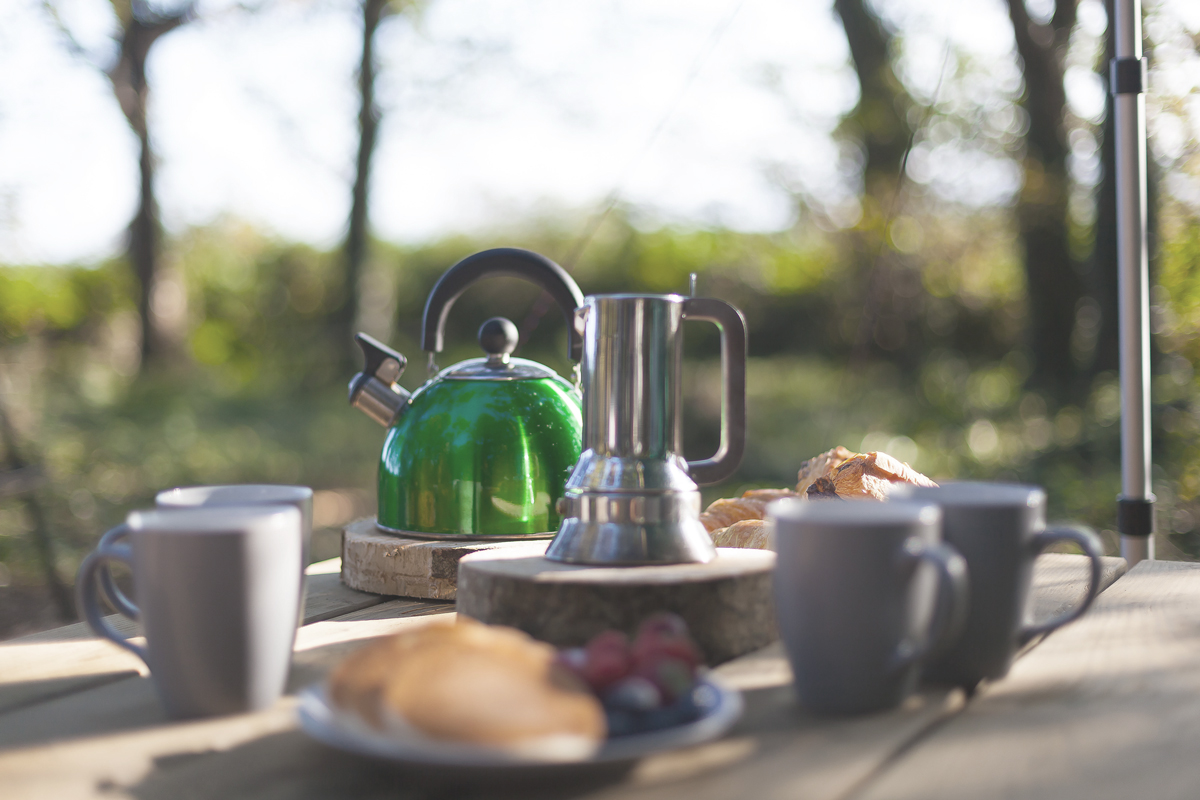 You can go the full wild and book onto a foraging tour. Or in season, take a fishing trip from St Ives and grill your own catch in the fire pit. There's nothing like freshly caught mackerel, barbecued near the sea. Or you can do what we do: shop at the local farm shops and fishmongers, then cook outdoors. One of the best bits about forest glamping is having your morning cuppa outside, watching the sun rise through the leaves. You might even glimpse a shy deer…
Cooking near the Landpods always felt really important to us. The cosy conviviality of a campfire meal appeals to something in all of us. We set up fire pits, and graduated to fire pits plus cooking areas with worktops and stoves. The camp kitchens are undercover, so a bit of Cornish mizzle needn't mean the end of cooking.
But don't feel pressured to be the cook on the wild side. Grab a takeout coffee and drink it on Porthminster Beach. Eat a pasty on the coast path. Order a pizza to come to your glamping pod and eat it sitting on a log. As the Famous Five kids told us in almost every book, food always tastes better when it's eaten outdoors.
Vitamin Sea
Wild swimming became popular during 2020, possibly because most pools were closed, or maybe because of the feeling of freedom it imparts. Communities of swimmers expanded or sprung into life in 2020. Try Porthminster Beach, Battery Rocks (Penzance) or go for full immersion at the much-loved naturist spot, Pedn Vounder near Porthcurno (please check tide times). At Beersheba, we're just a mile and a half from the Blue Flag beach at Carbis Bay. Even if you don't want to swim, its Mediterranean-esque setting sets the soul sparkling (and there are great places to eat and drink on the beach…).
The local lidos kept us all going in 2020, and we hope they'll continue to flourish. Penzance's architecturally perfect Art Deco lido, the Jubilee Pool, has become a must-visit place for those in search of a refreshing treat. They have recently added a geothermal spa pool, heated naturally, and gently steaming in the bracing Cornish air. Recommended. Closer to Beersheba, the unassuming and friendly Hayle lido is another favourite place for a swim and chill.
For an indoor dip, Una St Ives is a high-end holiday resort that's just a ten-minute walk from Beersheba. There's a swimming pool and spa that welcomes day members, as well as a lovely bar and restaurant. (And you get the child-like excitement of the torchlit walk back in the evening.)
Underneath the Stars
Then it's nighttime, and this is when the real outdoor magic happens. There's the glow of the campfire, which appeals to the ancestor in all of us, against the background blackness of the woods. When it's time for bed, the cosiness of your tent or (if you're staying at Beersheba) Landpod contrasts with the shadowy, nighttime outside.
It's probably on many of those "must-do-bucket-list" type articles to sleep under the stars, at least once. Yes, you can find a bivvy bag and an accommodating farmer and spend a night beneath the open sky. I have to confess that we went for a comfier version when we commissioned our glamping pods: simply raise the outside flap and clip it up, and the side of the pod opens out. You can lie in the comfort of your own bed, gazing out at the dark canopy and the distant lights.
If you're staying in Brea Cottage, delay bedtime. Switch on the hot tub and lie back in the gently bubbling water (ideally with a lightly bubbly drink), enjoying the darkness of the rural night. Fascinating fact: hot tub sales rose by 1000% in 2020 in the UK, and we completely understand this.
Get in Touch
If you like the idea of unwinding in the woodlands, or relaxing in our cosy cottage, please get in touch with us at Beersheba, St Ives.